Discover more from Field Notes
Photography, backpacking, and philosophical hatchetwork. Inspired by life in the wild.
Welcome to Field Notes!
In this issue we will-
Learn about elk. What are they? Where do they come from? Why are they in the Smokies?

See photos of elk in the Cataloochee Valley, GSMNP, that I took in October 2022
Thanks for reading Field Notes! Subscribe for free to receive new posts and support my work.
Lets go!
I was a teenager in the early 1990's when one summer my parents took the family on a camping vacation to the Canadian Rockies. It was such an impactful trip, but I can still clearly remember staying at a campsite named Wapiti at Jasper National Park, Alberta, tucked alongside the glacial Athabasca River.
I was told that this campground was established on top of an elk breeding ground. The evidence supported this, as at any given time many female and young elk wandered freely through the area. Undisturbed by people (so long as they weren't harassed), they lay amongst the tents and campers, strolled along the roadways, or generally loitered in the area.
This was my first experience with these massive animals and the experience made a lasting impression. Even so, for the duration of the trip we looked for bull elk with antlers, even in velvet, and saw none.
The word 'Elk' has a confusing history. It is historically derived from the Latin 'Alces alces.' This creature is an 'elk' in Eurasia, but referred to as a 'moose' in North America.
The animal we are examining here is 'Cervus canadensis,' a larger relative to what Europeans refer to as 'red deer.' In Native American terminology they were often called 'wapiti,' a Shawnee and Cree word referring to their 'white rump.'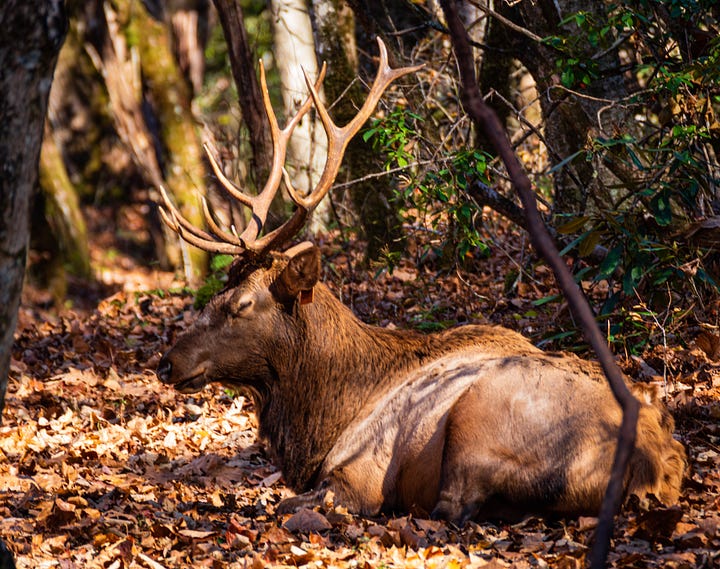 As European settlers sprawled across America the term 'elk' became commonly used to describe this larger version of the similar white tail deer, but this was not universal. Thomas Jefferson referred to them as 'red deer,' Lewis and Clark called them 'elk,' and Theodore Roosevelt preferred 'wapiti.' Today, the term 'elk' has remained.
I remember hearing the news back in 2001 that elk were being re-introduced to Great Smoky Mountain National Park. Eastern elk were once native and common in Appalachia, ranging from North Carolina north to Maine. However, over hunting claimed the last North Carolina elk in the late 1700s and the last elk in Tennessee in the mid 1800s. They vanished from the landscape for almost 150 years.
In 2000 and 2001 a population of western elk was brought back to Appalachia, first to Tennessee and then to the Smokies. Since that time, their population in the Smokies has grown to over 200 individuals, with their range and lives monitored by radio collar. Read more of the re-introduction story HERE.
As my interest in wildlife photography grew, I became determined to see bull elk in the fall. Cataloochee campground in the southeastern corner of Great Smoky Mountains National Park was the place to go. The problem was that my schedule makes planning far in advance very difficult. By the time I was able to organize this trip, the campground was completely booked.
In early October of 2022 I had given up going to the Smokies that year until one day, on a whim, I checked the National Park Service site again. A cancellation left an opening, which I immediately booked.
A 3 to 4 hour drive is about my limit for an overnight trip, but this one was worth it. I was able to bring my daughter Hazel along and we drove into the mountains at the peak glory of autumn leaf color.
After a treacherous, windy mountain road we arrived at the site and set up camp. From there, it was an immediate drive to the fields of the Cataloochee Valley. There they were! An elk herd, unperturbed by gawking humans, meandering up the valley, awash in glowing afternoon light.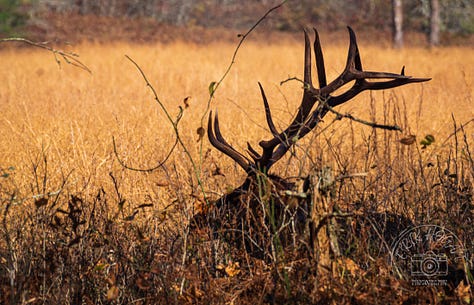 It is difficult to describe the impact of a massive bull elk, crowned with regal antlers, bugling in the chill mountain air. The sound and sight resonate in the primal caverns of my soul and the memory haunts me with goosebumps to this day. Though I took many photos on this trip, it was Hazel who captured this essence of the Great Smoky Mountain elk. Listen!
Thanks for joining me in this issue! As always, help me keep Field Notes going by subscribing, sharing, or maybe even contributing!
Exciting things to come in future editions! See you guys next week!